How to Make an Effective Speech?
The art of an effective speech and eloquence is considered one of the main cultural concepts of human societies. During our daily communication, we always try to have a positive impact on others with our words and bring them along with us. But the important point in this regard is our ability to speaking effectively. What kind of literature and speech style should we use in every situation and facing every person?
When we talk about speaking skills, the first concepts that come to mind are strong speaking skills and high self-confidence. It is true that these two concepts are essential for a good speaker, but they are not enough to be great. We seek to be great and not just good.
What makes you a great and professional speaker is beyond the ability of expression and high self-confidence, which we will mention below some of its dimensions:
A) Being in Place and on – Time
Assuming that you are also a great speaker and know the techniques of public speaking, your ability is useless until you know when to start speaking. A great speaker should learn the art of silence in addition to speech. In other words, he/she should know when to be silent and when to speak.
B) Verbal, Behavior and Appearance Characteristics
A person, from the moment he/she takes the position of a speaker until the time he/she starts speaking, is exposed to all kinds of personality and behavioral analyzes as many people are present in the crowd. You should know that in the art of speech, it is not only your speech that leaves a mark on people's minds and affects them, but your clothing, your steps, your standing, the movements of your hands and body, all represent your personality.
For example, if your choice to participate in an official meeting is informal clothing (T-shirt, jeans, etc.), this clothing creates a negative mentality in others, which is never in your favor. Therefore, in order to increase the influence of your speech, you should work on other aspects of your personality in addition to speech and push them to become excellent.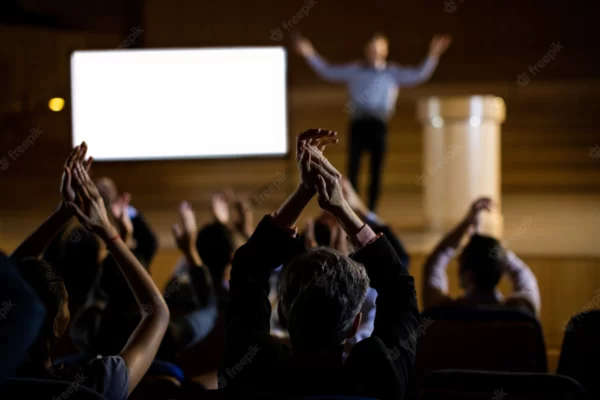 C) Not Giving a Lecture When Mentally and Physically Tired
When the human brain is tired, it will not be able to process the contents coherently and present them correctly. Also, physical fatigue can disrupt your behavioral and physical abilities. Therefore, it is better to avoid giving an effective speech when you are mentally and physically tired and postpone it to a more suitable time.
D) Eloquence in Speech
Eloquence in speech is another important factor in the art of speech and lecture. Eloquence means that our speech should be free of any heavy, unfamiliar and bad-sounding words, out of tune, as well as simple and light expressions, hateful and ear-scratching, incoherent and complicated, dumb and vague.
The issue of eloquence is so important, therefore, when God sent Musa (peace be upon him) as a prophet and ordered him to go to Phero'n and invite him to the truth, he said to God:
"My brother Haroun is more eloquent than me. Assign him to help me in preaching the message. Why, I am afraid of those who deny me."
E) Not Giving a Lecture from the Paper
It is true that we should prepare in advance and know in detail what we want to say and how to say it, but simply reading from a pr-written sheet is an unprofessional behavior that exposes us to false and negative judgments. Therefore, we should always be fully prepared for what we intend to say.
Up To Sum
To achieve an effective speech and become a great speaker, you must strengthen your language, behavioral and speaking abilities. A great speaker, in addition to strengthening his self-confidence, should try to express concepts clearly, fluently and simply, and strengthen his communication skills in order to communicate correctly and effectively with the audience. At Uprodemy, we strive to make you a great speaker with high impact and charisma.