International and National Trade

The concept of national trade and international trade is actually buying and selling good services inside and outside country and the international arena. Business means trading. The production of a product or service and the purchase and sale of that product or service are called trading or business. International trade is the trade relations between different countries. To have a successful business, we must pay attention to the satisfaction of the parties. Trade has a history as long as the presence of early human societies.
Types of Business
1. Traditional and Electronic
Traditional means the exchange of goods for goods or services for services, which is similar to primary business. For example, in the past, maybe a little wheat was exchanged for grape products. Today, people who have special skills such as working with computers or designing clothes, can teach each other their expertise in a business similar to traditional business.
2. Electronic Commerce
In E-Commerce, in fact, the electronic platform is used for buying and selling goods. This type of business is good in today's world. With the advancement of technology, we update ourselves and learn about the advantages and disadvantages of this business with proper training. We can also reduce the risks of e-commerce by consulting with experts. International trade is fair and free transactions in the international arena where goods and services are exchanged between two countries.
Despite the inappropriate distribution of minerals and raw materials in different countries of the world and the existence of countries' needs for raw materials and various services, international trade, which has a very long history, becomes important.
For example, it is possible that the resources of petroleum energy or precious stones or food grains such as rice and beans are more in one country and less in another country, or that the cost of producing a product or service in a country is more expensive due to certain conditions and is affordable to import goods and services. Or vice versa, the production of a good or service is suitable for a country compared to other countries and exports it. These factors create the context of international trade.
Factors Affecting International Trade
International trade and global economy are two words with different meanings that have a lot of influence on each other. In fact, the reason for creating the global economy is the trade relations between countries. In international trade, supply and demand as well as prices are affected by global events. For example, a political change or tension in the relations between countries can affect the price of goods.
Types of International Trade
1. Importation
Buying goods or services from another country is called import. One of the reasons for importing can be the inability to produce that product in sufficient quantity or at a competitive cost inside the country. For example, India imports approximately 82% of its country's crude oil from the UAE and Venezuela.
2. Export
This is very similar to import. Export actually relies on the sale of domestically produced goods and services to foreign countries. The form of export theory is completely opposite to import. For example, India and China exchange goods to better use the production capacity of their countries.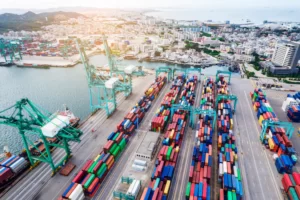 India
India exports non-fine chemicals, minerals, oil seeds, etc. to China. In contrast to electronic equipment and silk imports fine chemicals from China.
3. Re-Export
It is a special form of international trade that includes both export and import trade. In the re-export process, the imported goods are not used for consumption or sale in the importing country and the importing country only adds some value to the goods before re-exporting them. For example, India imports rubber from Thailand and exports the same rubber to another country, such as Japan, with a slight price increase.
To Sum Up
Business is the trade that has a long history. In international business, the borders of the world widened and actually became global. The most important types of international trade are:
1. Importation
2. Export
3. Re-export
Keywords: International, Trade