Artificial Intelligence
Artificial intelligence has many applications in the field of industry and production. Paying attention to this category and using it correctly and appropriately in these two areas can create many competitive advantages for companies. Due to the advances we are facing in the field of technology, one of the major fears for businesses is the fear of falling behind the competition. The pressures caused by this fear can be solved by using the solutions proposed by this type of intelligence.
The Nature of Artificial Intelligence
Artificial intelligence is a method for building tools using human abilities and capabilities; In fact, these tools have a human-like approach; that is, they think like a human and make decisions for him/her. This technology is a human handwritten machine with the aim of making everyday tasks easier.
Types of Artificial Intelligence
Artificial intelligence consists of 4 general models, each of them, based on the capabilities and goals they pursue, are used in many specific fields.
1. Reactive Machines
Reaction machines are one of the oldest models of artificial intelligence, which are designed to perform specialized and specific activities. These machines do not have the ability to store information and therefore are not able to make decisions based on past experiences. Their production was only to meet the needs of people. For example, this case can be referred to the Google search engine.
2. Limited Memory
Artificial intelligence in this model provides the possibility of storing information and making decisions based on per-given data. In fact, the basis of this system's performance is in accordance with the clues that have been presented in the past. For example, we can mention the authentication and identification of people in different systems.
3. Theory of Mind
The theory of mind states that artificial intelligence can understand human feelings, emotions and beliefs in a more effective way. It also makes decisions using the information obtained from human emotions and feelings. This part of intelligence is growing and developing.
4. Self – Conscious
The purpose of creating this model is to simulate human motivation. Simulation means that the level of understanding of a man-made machine is similar to the awareness and understanding of a human. In this case, a robot will be able to understand the feelings and needs of others and communicate with them like a human.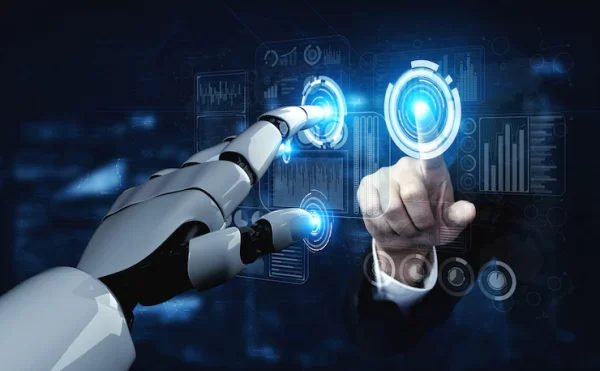 Application of Artificial Intelligence in Businesses
Failure to use artificial intelligence in the marketing process can destroy the opportunities of many business owners. But its use can not only lead to the development of marketing strategies, but it is also effective in their correct and efficient implementation. Sorting customers based on specific and different criteria and doing advertisements according to them is one of its other uses in the field of marketing.
Human factors play a deep role in sales, but the role of artificial intelligence should not be ignored in this regard. The perspective that this intelligence gives to sales professionals helps them improve performance, predict customer needs, and improve communication. Machines that are based on artificial intelligence allow sales professionals to manage their time and determine when follow-ups should be done. They also provide the possibility of identifying potential customers and converting them into actual customers.

3. Human Resources
Despite what it seems that artificial intelligence has no application in the field of human resources, this capability can perform many activities related to this field. By creating an automatic system throughout the process of recruitment to management, in addition to improving performance and efficiency, we will also face cost savings.
Advantages and Disadvantages
The use of artificial intelligence provides the possibility of doing things with high precision.Job security, less importance of emotions, control of behavior by man-made machines, all can be done using the capabilities of this technology with the highest precision and the least concern. This capability allows for continuous work without rest, as well as the possibility of making rational decisions without emotions.
However, on the other hand, these advantages can cause many problems. For example, purely logical decisions without regard to emotions and feelings make people face a great risk of failure. On the other hand, excessive dependencies on artificial intelligence-based machines reduce people's efficiency. Another disadvantage of using this technology is the high cost of using tools based on this technology.
Up To Sum
Artificial intelligence is a new emerging phenomenon in the business space. The use of this feature plays a significant role in the success and growth of businesses. The application and demand for the use of this technology in the current commercial and competitive environment has a growing trend. But its use requires familiarity with the capabilities and fields used in the business environment.